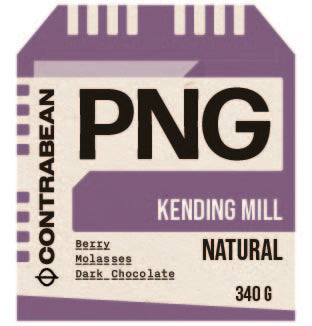 Kending Mill - Natural
Papua New Guinea
Elevation: 1520 - 1770 masl
Varietal: Arusha, Bourbon and Typica
Farm/Region Small Holder Farms, Western Highlands, PNG
Process: Natural
Berry, molasses, and dark chocolate flavours.
This coffee comes to us from the Kindeng Dry Mill, located in the Jikawa province of Papua New Guinea. It is a blend of coffee purchased in cherry from about 1500 multiple smallholders located in the Kindeng and Arufa municipalities. The average farm size of producers in this area is about 1-2 hectares, and the soil is generally sandy loam and loamy clay. After cherries are received at the mill, they are processed accordingly and dried on raised beds and canvasses. They are moved multiple times a day throughout the average 1-month drying process to ensure an even and uniform average moisture content across the lot. Once the coffee is adequately dried, it is placed into bags, stored in a cool and dry warehouse, hulled, milled, and prepped for export.

Naturally-processed coffees from Papua New Guinea are quite rare, but we have been happily sourcing them since the early 2020's. When it comes to this process, only the ripest cherries are used as the amount of time necessary to dry and cure these coffees fully is extensive. After cherries are harvested, they are hand sorted and placed on raised beds for an average period of 3-4 weeks until fully dried. During this time, the cherries are moved by hand on a regular basis to ensure an even moisture content throughout the lot.

Western Highlands

The predominant economy of the Western Highlands is coffee accounting for 20% of the country's total production. The land is densely forested and dramatic with mountains and river valleys experiencing cool average temperatures. Generational producers have grown coffee under shade along with other subsistence crops. Today, specialty coffees from places like Waghi Valley are gaining notoriety for the unique flavor profile of the region. 

Papua New Guinea Sourcing

Since 2012, Cafe Imports' senior green-coffee buyer Piero Cristiani has made the long trek to Papua New Guinea to develop relationships, cup new coffees, and continue to facilitate development and investment in specialty programs. Monpi is our primary exporting partner in Papua New Guinea. Through this partnership, we have been able to source coffees from individual washing stations and communities such as Kujin, Namugo, and Ulya, and FTO-certified cooperatives like Keto Tepasi, located in the Chivu region.

Piero not only cups and sources exceptional coffees through our relationships in Papua New Guinea but also works towards developing programs that provide greater earning opportunities for producers willing to explore more complex cup profiles. By investing in our partners willing to take risks to improve their means of production, picking, sorting, and processing, we build stronger partnerships that provide farmers with greater opportunities for business advancement through the farming of bolder and better coffees.