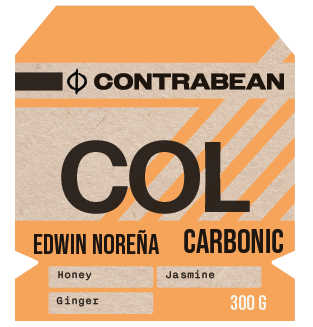 Edwin Noreña
Quindio - Carbonic, Honey
Quindio, Colombia
Awesome Single Origin Espresso, Brew or Pour Over 
Grower / Farm: Edwin Noreña | Finca Campo Hermoso
Region / State: Circasia Municipality, Quindío Department, Colombia
Varietal: Yellow Bourbon & Yellow Caturra
Elevation: 1,600 m asl
Process:  Custom, carbonic maceration, partailly depulped and dried on raised beds
Brought to us by Royal Coffee.
This special coffee costs much more to produce than traditional washed coffee. Therefore, the bags are a little smaller to accomodate the added cost of the green to Contrabean. 300g bags
Lime, jasmine, ginger, honey
For such a naturally gifted department as Quindío, it tends to receive less recognition than others for its coffee. Quindío is Colombia's second-smallest department by size, making up only about 0.2% of the national territory. It's location, however, right on the central cordillera of Colombia's vast Andes divide, and centrally between the country's largest and most influential cities (Bogotá, Medellín, and Cali), give it a high volume of tourist traffic, coffee industry, airline commuters, and idyllic getaways in the form of brightly painted mountain towns, natural reserves, and high elevation tropical landscapes throughout. Almost the entire department is mountainous, its lowest elevations still over 1000 meters, and many parts are dense with coffee plantations, from the small to the large and ambitious. 
Finca Campo Hermoso is a 15-hectare farm outside of Circasia, only a few kilometers north of Quindío's capital city Armenia. It's owner, Edwin Noreña, is an agroindustrial engineer by trade with graduate-level studies in biotechnology. Edwin is a well-connected and highly aspirational coffee producer who focuses on cultivating very specific varieties paired with very specific processing methods designed to express the most surprising, memorable, and delicious coffees possible within his resources. Finca Campo Hermoso concentrates on growing a wide variety of coffee cultivars, including pink bourbon, yellow bourbon, yellow caturra, bourbon sidra, gesha, and Cenicafe 1, a resistant hybrid developed by Cenicafé, Colombia's national coffee research institute. The resulting coffees are often marketed under "El Alquimista", Edwin's personal brand for his microlots, which have featured in barista competitions and choosy roasters around the world (and Royal Coffee's own inventory from time to time). 
Edwin's processing for this particular lot involves a two-step fermentation, followed by raised-bed drying. Fresh cherry is first soaked in water for 1 hour, and then fermented in the style of carbonic maceration, in which the fruit is sealed in a chamber with a one-way valve for oxygen to escape but not enter, creating an increasingly CO2-rich environment as the cherry ferments. After 48-hours in the sealed chamber, the cherry is depulped and fermented in a covered tank with the addition of the yellow "must"—the sugary, tangy juice produced during carbonic maceration—added as well. This second fermentation lasts 72 hours. Once complete the parchment is washed clean, leaving about 25% of the original mucilage intact and taken to raised beds to dry in the sun. Drying takes 15 days for this process. The fully dried coffee is conditioned for 8 days in a warehouse, allowing for humidity to stabilize inside the seeds, and then moved into GrainPro bags for long-term storage, where it is cupped numerous times over the next few weeks for quality analysis. 
Oxygen-deprived, or "anaerobic" fermentation environments like the above have gained traction among processing wonks in coffee for the unique flavors and tanginess they can add, as well as creating exaggerated lactic- or phosphoric-like characteristics in the cup compared to what we're used to. Edwin, by investing in his processing knowhow, is able to produce a wide variety of cup profiles from a small parcel of land, further expanding cuppers' expectations of Quindío coffees and evolving the standards of his peers, not to mention boosting the notoriety of Campo Hermoso and the 30 families that contribute work to the farm.