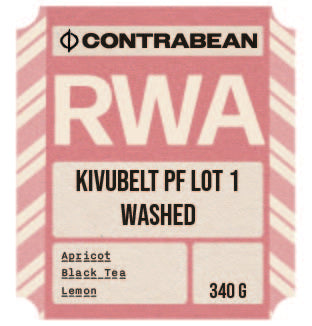 Peoples' Farm Lot 1 - Rwanda
Grower: 400 small farmers organized around the Murundo Washing Station
Variety: Local Bourbon Varieties
Region: Mahembe Sector, Nyamasheke District, Western Province, Rwanda
Altitude: 1,700 - 1,800masl
Process: Fully washed and dried on raised beds
Apricot, black tea, lemon, and salted caramel.
Graham Braun, a local coffee roaster, entrepreneur and friend has, unfortunately, recently been diagnosed with ALS. Amyotrophic
Lateral Sclerosis, or ALS, is a progressive nervous system disease that affects nerve cells in the brain and spinal cord, causing loss of muscle control. Doctors usually don't know why ALS occurs. Some cases are inherited.

Monica and Graham have served the Region of Waterloo community for over 10 years! They opened Monigram Coffee Roasters, a place that nurtures connection and community and has served thousands of people. We are part of a group of local roasters that have come together to support the Braun family.

$3 from every bag sold of this delicious new "Peoples Farm Lot #1" coffee from Rwanda will help the Braun family with the ever growing costs associated with living with ALS.

Scan the QR Code
This People's Farm (PF) Lot from Murundo Coffee Washing Station (CWS) exhibits some of the best of the west, Rwanda's mountainous borderlands with the breathtaking Lake Kivu. On the cupping table the coffee is gentle, mild-mannered, and very sweet. It has a soft apricot character that readily shines through strong impressions of salted caramel and hints of lemongrass. 
The Murundo Coffee Washing Station (CWS) is one of two processing sites the Kivubelt company operates. "PF" in Kivubelt's nomenclature refers to "People Farm", another term for smallholder coffee growers and the households they support. 
Kivubelt was established in 2011 by Furaha Umwizeye, after returning to Rwanda with a master's degree in economics from Switzerland. Born and raised in Rwanda, Umwizeye's goal with Kivubelt is to create a model coffee plantation, as sustainable in agriculture as it is impactful in local employment and empowerment. The company began with 200 scattered acres of farmland in Gihombo, a community in Rwanda's coffee-famous Nyamasheke district that runs along the breathtaking central shoreline of Lake Kivu. 
Under Umwizey's leadership, Kivubelt has planted 90,000 coffee trees on their estates, which now employ more than 400 people during harvest months and is a kind of coffee vocational school for local smallholders interested in improving their farming. Kivubelt has also acquired two washing stations, Murundo and Jarama, which combined not only process coffee from the company's estates, but also that of more than 500 smallholders in the region, offering quality premiums and training programs for participating farming families. Lot 1 from Murundo CWS was picked across March, April, and May 2022 by the station's participating 400 local smallholders. 
The Nyamasheke district in Rwanda is gifted in terroir. The cool, humid climates of both Lake Kivu and the Nyungwe Forest National Park keep groundwater abundant throughout the uniquely hilly region. Kivu itself is part of the East African Rift whose consistent drift creates volcanic seepage from the lake's bottom and enriches the surrounding soils. Coffees from this region are often jammier and heavier than in the rest of the country. Murundo's coffees in particular are full of complex sugars, currant-like acids, blackberry and spice flavors, and round, soft textures.