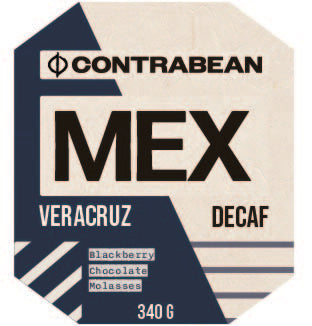 Veracruz, Mexico - Decaf
Notes of blackberry, molasses, chocolate
.
Growers: Smallholder Farmers
Region: Huatusco, Veracruz, Mexico
Altitude: 1100-1300 masl
Variety: Bourbon, Garnica, and Colombia
Process: Washed and dried on covered, raised beds.
Water Process Decaffeinated
Certification: Fairtrade, Organic
This lot was intentionally selected by Royal Coffee for decaffeination in collaboration with their export partners, Unión Regional de Pequeños Productores de Café Agropecuaria Forestal y de Agroindustrias Zona Huatusco (Unión Regional Huatusco)located in Veracruz Mexico. It is a community blend from small farms located in the Huatusco area. There are 1,324 members of La Union cooperative who have an unwavering commitment to organic practices for cultivating coffee. La Union carries out activities that are crucial to its members, like helping them gain access to credit and certifications. Investments for basic infrastructure needs, like road improvements, establishing local warehouses, and dry-mill facilities are also coordinated through La Union. During the harvest, each producer processes coffee with their own micro-mill and dries the coffee in the sun on patios before transporting the coffee in parchment to a centrally located warehouse where the coffee is milled and then sent for decaffeination. This lot was decaffeinated using water process, which means green coffee is pre-soaked in water to expand the beans for caffeine extraction. The hydrated green coffee is then introduced to a unique solution of concentrated coffee solubles that draw out the caffeine while minimizing the loss of flavor compounds. Once the caffeine has been removed the green coffee is re-dried and re-bagged for transport, and the extract solution is filtered of its caffeine and recycled to be used again.