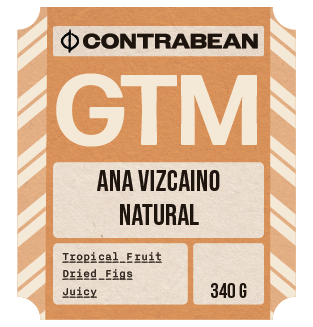 Awesome Single Origin Espresso, Brew or Pour Over
Variety: Caturra and Catuai
Region: Zunilito, Suchitepequez
Farm: La Esperanza - Two Birds Coffee
Altitude: 1400 - 1600 m asl
Process: Natural
MAYACERT - Con Manos de Mujer (With Hands of Women)
Medium body. Tropical Fruit. Dried Figs. Juicy.
Pricing Transparency ($/Lb)

"C" Market at time of booking = $US 1.64
Price paid to Finca Esperanza = $US 4.10
Payment over "C" Market = $US 2.50
Contrabean Cost = $US 6.00
Shipping/Brokerage = $CAD 1.00
Final Cost to Contrabean = $CAD 9.40
This delightful, natural process nanolot coffee is grown and processed exclusively for CONTRABEAN by our dear friend Ana Vizcaino at her farm Finca Esperanza near Zunilito, Guatemala. 
Finca Esperanza is named for Ana Vizcaino's great grand-mother. Connected to the farm is a private natural reserve, La Morenita. La Morenita translates into "a beautiful dark-haired and/or dark-skinned girl". We buy the coffee direct from the farm through Two Birds Coffee, the distribution company run by Ana's "Two Birds", Pancho and Diego. Exportation from Guatemala is the responsibility of AnmMaria, Ana's daughter.
Coffee farming in this part of Guatemala dates back to the mid-1800s. When Ana and her family inherited the farm from Ana's Dad, they began the journey towards organic certification. After many years of hard work they received their organic certification prior to the 2015/2016 harvest andtThey received the Bird Friendly certification in time for the current 2016/2017. Because of the financial burden of maintaining their Organic Certification, Ana decided not to renew for this year. However, organic practices and a holistic approach to the local ecosystem are at the core of Finca Esperanza.
La Esperanza also has MAYACERT "Con Manos de Mujer" (With Hands of Women) certification. This protocol promotes social responsibility, product quality and gender equity.The farm collaborates with women, providing work opportunities and training and working with their communities on socio-economic and environmental initiatives. With each year, their dedication and hard work has resulted in nicer and nicer coffee. This years coffee is really good. 
The farm property includes around 225 acres of land, but only 120 of those acres are actually cultivated for coffee. The remaining acres are maintained as a private natural reserve. The 120 acres of cultivated land has shaded coffee as well as bananas and beehives.
The farm and nature reserve are located south of the Antigua region of Guatemala in Zunliito, Suchitepequez along the dormant volcano, Volcan Santo Tomas. The locals call this volcano Cerro Pecul. The land, 1400-1600 meters above sea level, is alive, fertile, and produces some amazing coffee. There are two spring fed rivers on either side of the farm, La Cal and Chita, which supply hydro electric power and water to the farm. The farm receives an average annual rainfall of around 7 metres.