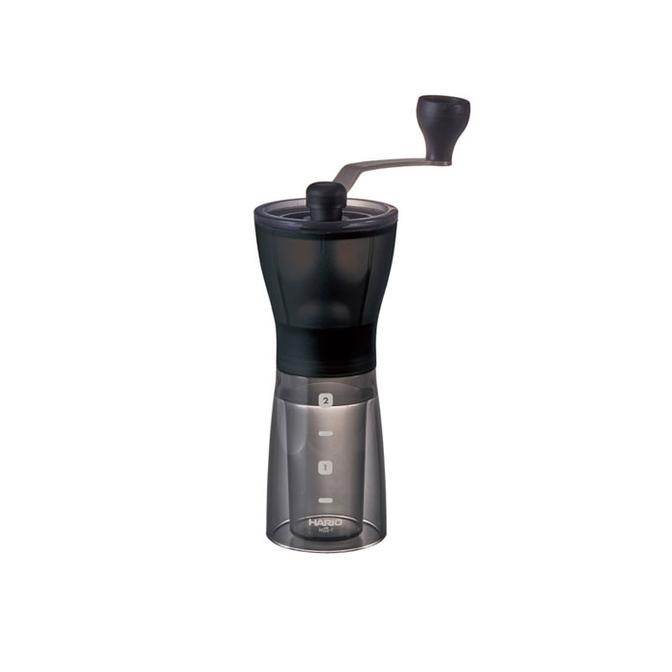 The perfect for travel Hario Slim Hand Coffee Grinder has a new sibling. The Mini-Slim Plus is the transparent black version of the Slim, with a re-inforced grind shaft for an even more consistent grind.
It's great for travel and for everyday use. It uses no electricity, so you can get fresh ground coffee anywhere - and a bit of arm exercise too! The grind quality is very even, and the low speed manual grinding action provides a superior tasting cup of coffee compared to a typical high speed blade grinder.
Just scoop your beans into the plastic dish at the top, rotate the grinding wheel, and in a few moments you've got nicely ground coffee in the small plastic container below.
Its adjustable ceramic conical burrs let you easily set the fineness or coarseness of the grind. You can even remove the plastic jar and grind directly into the AeroPress, which makes it even more portable!
Capacity: ~24g
Weight: 257g
Materials:

Nylon Washer, Hopper Shaft Cover, Pin and Grind Adjustment Nut
Ceramic Inner and Outer Burr
Stainless Steel Shaft, Screw Section, Spring and Handle
Methacrylate Resin Cover and Bottle
Polypropylene Handle Grip, Center Cap and Hopper