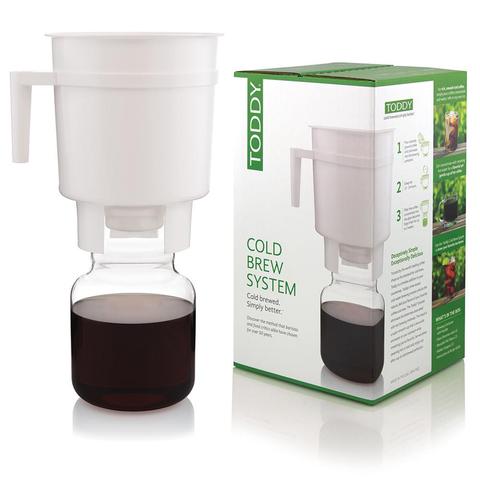 The Toddy Cold Brewer is made in the USA, and makes beautifully balanced, lower acid, no bitterness coffee concentrate. It's also really simple to use. 
Once the coffee and water have been added (see method tab) just leave in the fridge for around 12 hours, pop the stopper out, and decant into the supplied sealable, glass carafe. In addition to the smooth and complex taste, one of the best features of this brewer is the fact that you produce 1.6L of concentrate! Yes, you read correctly, 1.6L of extract, which translates to 3.2L - 4.8L of coffee, depending on your drink of choice! And your possibilities are endless; iced lattes, iced cappuccinos, flavoured cold drinks, Americanos, and whatever your imagination can come up with!
And while the sooner you drink the better, it's more than happy to live for up to 2 weeks in your refrigerator. This is essential in those hot summer months when you don't want to take hours to brew a small amount of coffee.
Oh, and it would be remiss of us not to mention that it is equally adept at brewing tea.